This movie is a must see movie by a lot of reviewers and not to mention in the recent Asia Film awards, it managed to win a few big awards!
The movie is about when her husband passes away in an automobile accident, Shin-ae and her son Jun relocate down south to her late husband's hometown of Miryang. Despite her efforts to settle down in this unfamiliar but much too normal place, she finds that she can't quite fit in. Helping her out is Kim, a good-intentioned but bothersome bachelor, who owns a car repair shop. Life plods on. However, fate takes a vicious turn when Shin-ae loses her son in the most horrific way a mother could imagine. She turns to Christianity to relieve the pain in her heart, but when even this is not permitted, she wages a war against God.
To me this movie is all about the female lead, Jeon Do-yeon Jeon, she really put on a very solid performance in this movie. I can really feel her anguish when she found out that the person that killed her son told her that God had forgiven him. This movie is not about religion but how someone views religion to seek refuge from. Overall I give this movie 4 stars out of 5. The cinema is very empty when I watch this show. Well can see that PictureHouse is not very popular. To me, I still HATE the seats there! Why Cathay cannot show the movie at PictureHouse and at normal cinema halls as well? There is no price difference anyway. Sigh....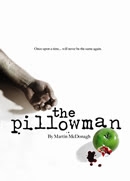 Missed the first run last year and happy to see that they decided to do a re run! WooHoo! The tickets are running out fast for the rerun as well. Lucky to get decent seats though.
Before the show, decided to take a walk Robertson Quay and looked for some place to eat. Decided on Brussel Sprouts. Heard of this place for sometime but had not give it a try. More than happy to give it a try. Look out for the review. All I can say now is it is good to have a nice cold pint of Hoegarden when the weather is freaking hot!
The play is held at SRT, my first visit there. It is a small theatre quite cosy as well. Since the place is small, the actors uses no mic. The seats are not very comfortable especially when the play is freaking long like 3 hours. It does not help when i got a very tall guy seating rite in front of me and I had to shift left and right to see what is happening on the stage. Sigh....
"The Pillowman, written by celebrated Irish dramatist Martin McDonagh, marries comedy and psychological drama. Set in an unnamed totalitarian state, Katurian - a fiction writer of gruesome fairy tales ・has been dragged in by the police for interrogation about crimes committed in his community. They bear an uncanny resemblance to his books. As the police inspectors perform their good cop/bad cop routines to get to the bottom of the case, the audience will be led into the darkly funny and brutal world of the writer's, and perhaps even their own imaginations."
To me, the story is quite written, a dark comedy with a lot of twists. The acting from the actors are very good as well. I wonder how can they stay in the character for so long. The only thing I got to say, the play is a bit too long that at times I find it a bit too draggy. If not, I do find the play entertaining. It is like reading the book where, you just wanna to keep flipping the pages.
A "still got so many shows to watch" Polarbear